21st Century Catholic is a resource focused on "best practices." What is working and what is not in our parishes and dioceses.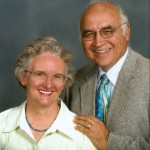 21st Century Catholic is the brainchild of two anthropologists, Deacon Randolfo R. Pozos, Ph.D. and Kathleen Brewer de Pozos, Ph.D. Randy and Kathy are life-long Catholics who have been active in ministry since childhood. Born before Vatican II, they remember the "old" Church and have lived joyfully through the reforms and new opportunities for lay ministry brought by the Council.
Randy and Kathy are both graduates of Gonzaga University in Spokane, Washington, where Randy majored in biology and philosophy and Kathy majored in biology and Spanish. Both are members of Alpha Sigma Nu, the national Jesuit Honor Society.
Randy received a master's degree in Public Health Planning and Administration from U.C. Berkeley in 1976, a doctorate in Social Cultural Anthropology from U.C. Berkeley in 1980, and a master's degree in Pastoral Ministry from Santa Clara University in 2018. He was ordained a deacon for the Diocese of Monterey, CA in 2018.
Kathy received her doctorate in Medical Anthropology in 1980 with a sub-specialization in Anthropology of Religion from a joint program between U.C. Berkeley and U.C. San Francisco.
Despite doing some teaching and research, they have not had conventional careers in academia. Instead, they have spent the majority of their careers as management consultants in healthcare.
Over the years they have done extensive work in cross-cultural ministry training for the Catholic Church and volunteered in religious education for youth and adults. They have three children and three grandchildren and live in Santa Cruz, CA.